Back County Horsemen of the Virginia Highlands
| | |
| --- | --- |
| The BCHVH is a 501-C3 non-profit service organization committed to maintaining horse and multi-use trails in the Mount Rogers National Recreational Area in SW Virginia and in the surrounding areas. The BCHVH partner with land management agencies and other trail users to solve maintenance problems and to be a voice in the planning of future trails and trail systems. | |
The Back Country Horsemen of the Virginia Highlands organize trail work days and rides to improve trails and to encourage all user groups to practice the principles of Leave No Trace. With cuts in funding and manpower the the Forest Service looks to volunteers to help keep trail maintenance and projects moving forward.
If you want to join us and have fun giving back to the trails please download a membership form from our Files page!
The next meeting of the BCHVH will be held on Saturday, January 11 at 478 Big Brush Creek Road, Fries, VA. Pot Luck Dinner at 6:00 followed by meeting. See our events page for more information!*******
The BCHVH has been asked to assist the Forest Service in removing debris from an old outhouse building in the Raccoon Branch Wilderness. We will need to pack out the debris out so if you have a pack animal, we could use your service. We would like to include other BCH groups in the area on this project. UPDATE- THIS PROJECT HAS BEEN IMPLEMENTED AND WAS A HUGE SUCCESS!! THANKS TO BCHNC AND BCHET FOR YOUR HELP!! SEE THE FOLLOWING STORY FROM THE SAWS ORGANIZATION-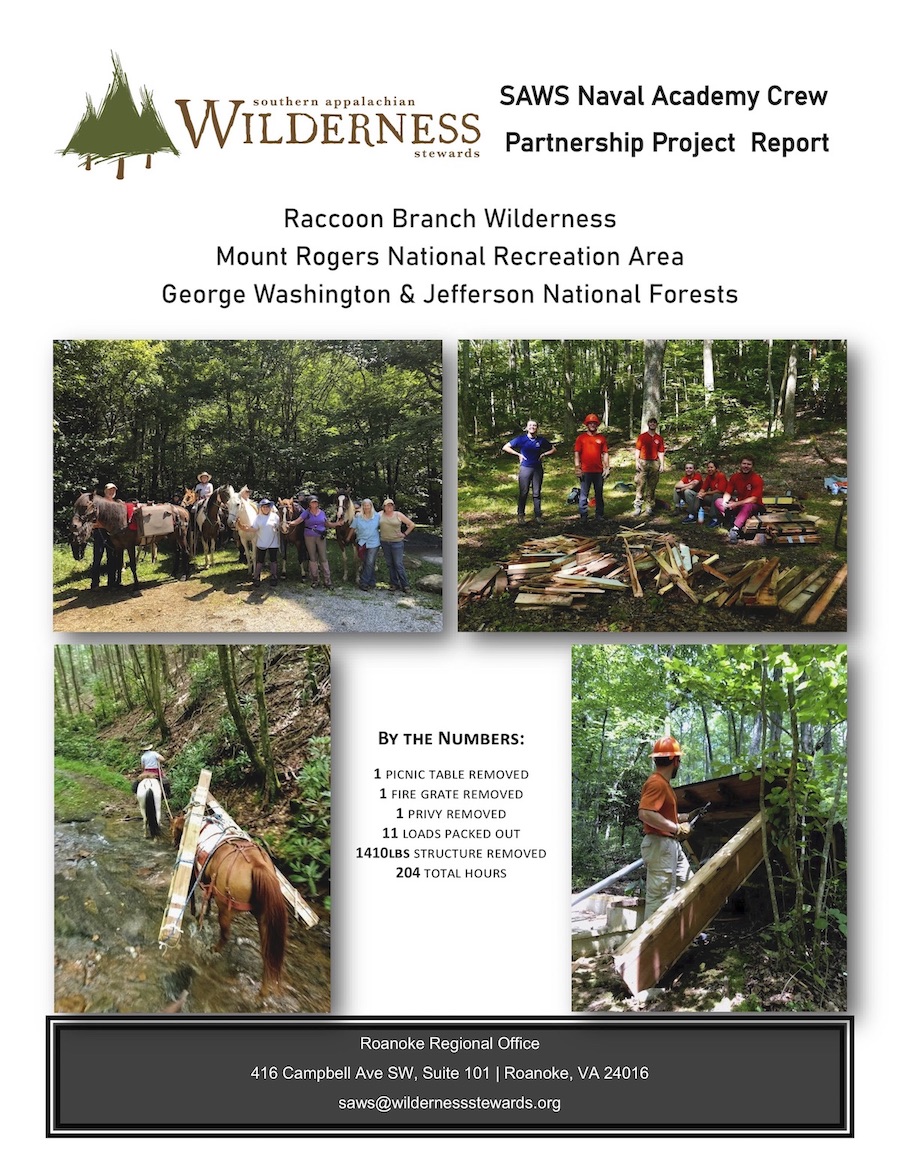 SAWS REPORT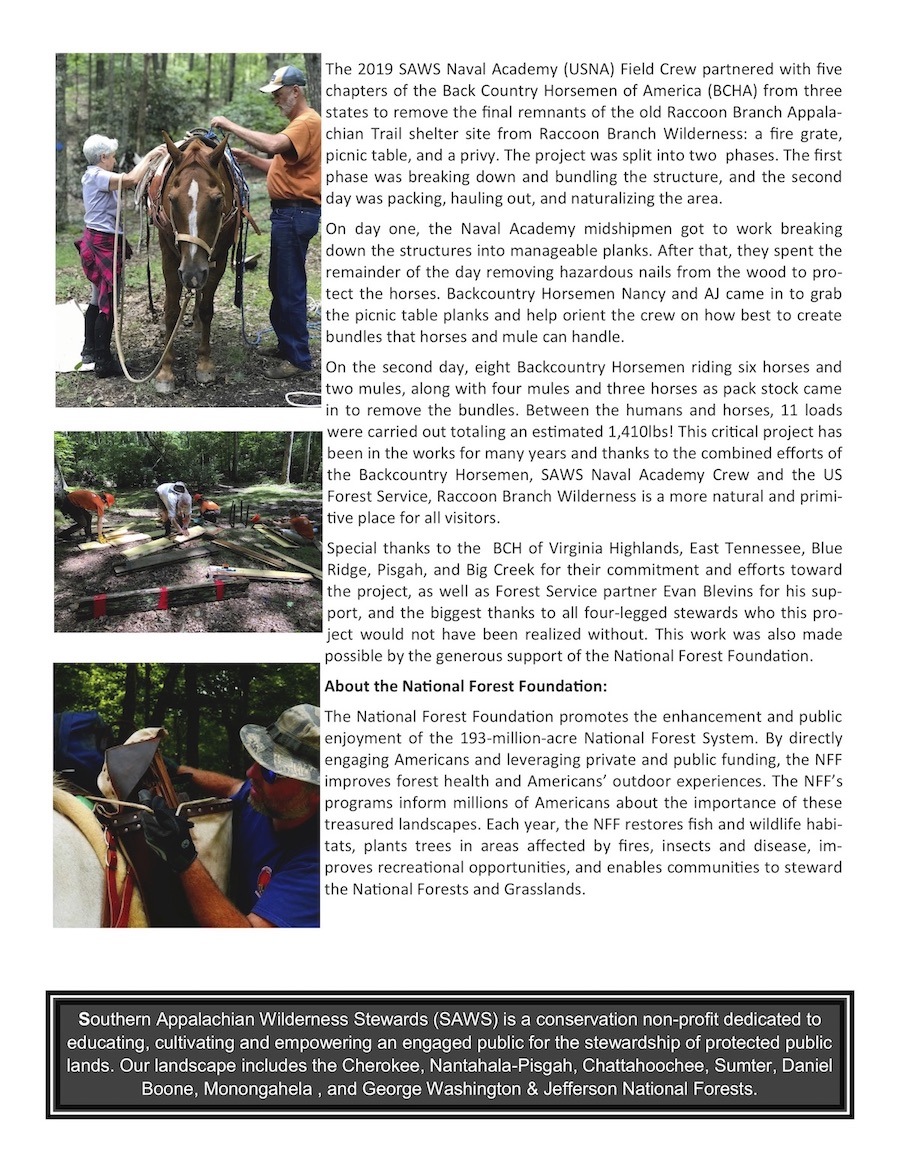 SAWS REPORT
The BCHVH has agreed to adopt the Little Dry Run Trail through the Little Dry Run Wilderness. Since this is a wilderness trail all work is required to be done by hand. Several members are crosscut saw certified which will help with the cutting and clearing. This trail has been neglected for many years and is in dire need of some TLC. Several work days will be scheduled in the coming year on this trail.
UPDATE- NOVEMBER 3RD, 2018 A GROUP OF BCHVH MEMBERS AND FRIENDS CLEARED THE ENTIRE TRAIL. STAY TUNED FOR FUTURE WORK DAYS ON THIS WILDERNESS TRAIL.
******THE VALLEY DIVIDE TRAIL IS COMPLETE!! WE HAVE RIDDEN IT AND IT IS REALLY NICE!! THANKS TO ALL WHO HELPED ON THIS PROJECT!!!***************
Valley Divide Project- the BCHVH will be partnering with the Forest Service and several mountain bike groups on clearing a corridor for the Valley Divide Trail, a new trail to be constructed in the Mount Rogers National Recreational Area. The new connector trail will allow passage around the Raccoon Branch Wilderness for bikes, larger groups of horseback riders and any other groups that are restricted in wilderness areas. The trail will also make a loop opportunity in an area of the forest where there are not many loops. If you are interested in volunteering on this project please contact info@bchvh.org
****The preliminary clearing of the Valley Divide Trail corridor has been completed. Thank you BCHVH members and friends for helping out! The mechanical work on the trail tread is scheduled to take place this spring. We are looking forward to using this new trail!*****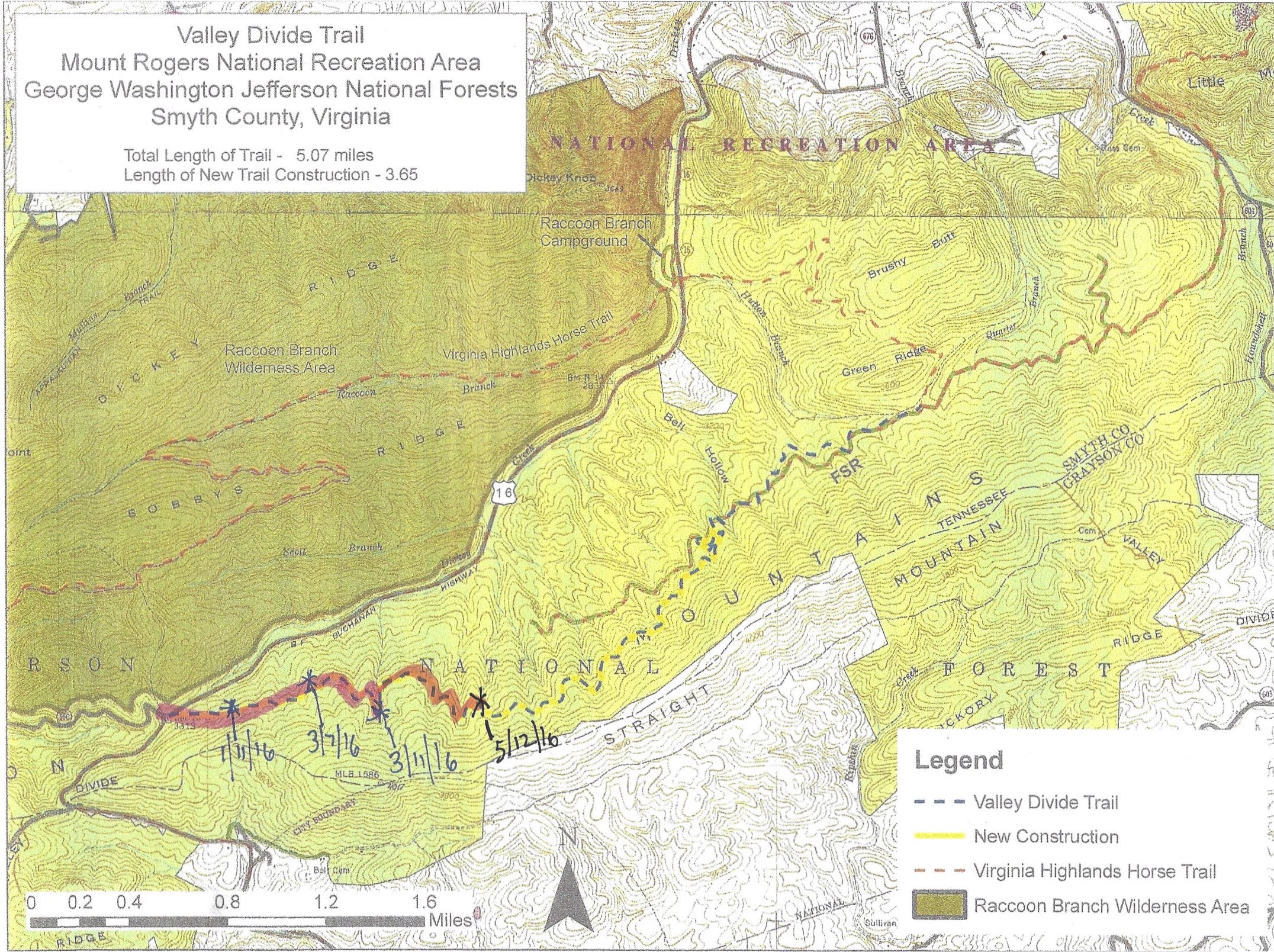 Our progress working on the proposed Valley Divide Trail
Back Country Horsemen of the Virginia Highlands- making a difference on the trail!